McDonalds WowWee Robotics toys
Talk

0
41pages on
this wiki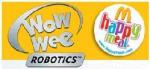 In 2007, Mcdonald Fast Food restuant releashed 8 robotic toys. Later that year, during the mystery toys, 2 more were released.
Packaging
Edit
The meal and the toy were sold in a decorated bag of the theme. On the front was WowWee, and o nthe back was Ponyville. There was a little maze which was labeled "Make you way from start to finish, but watch out for Short Circits". Pictures of several robotics were also on the front with labes which read, "Robosapien: The life of the party-He likes to Boogie down and knows Kung-fu!", "Roboreptile: He's quick, Hungrey, and Ferocious", and on the side "Roboraptor: A playful, prehistoric pet, He's Strong and Mischievous" and "Your body needs recharging too! Power Up your battries with a good night's sleep". The toys were spearte in small packages labed with name, number, and copyrights in english and spanish. Each toy came with a small peice of paper with instructions. The display box was blue with RS V2's head on it.
Robotic Toys
Edit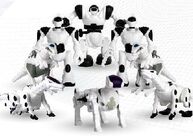 Walking Robosapien--Walking Robosapien walks when you wind him up.

Roaring Roboraptor--Once switched on, Roaring Roboraptor roars when you push a button on his back. Has 2 roars.

Talking Robosapien V2--Once switched on, Talking Robosapien V2 speaks when you press a button on his chest. He greets you just like his big brother, "I am WowWee Robotics model RSV2". Also says "Please to meet you".
Running Roboreptile--Pull Running Roboreptile back and release, and he propels himself forward on wheels hidden beneath his legs.
Walking Robopet--Walking Robopet can go for a walk with you and your other dog Fido, just wind him up and let him go. His head moves as he walks.
Chomping Roboraptor--Chomping Roboraptor is chomping at the bit to meet you. Push the button in and his mouth opens and close.
Stand Up Robosapien V2--Stand Up Robosapien V2 can stand up all by himself. Wind him up, lay him down, press the button on his chest, and be amazed as he stands unassisted.
Chomping Roboreptile-- Pull the lever to make Roboreptile chomp down
Mystery Toys
Edit
These were releashed during the mystery toys in EU
Has a botton on it's back that when press, makes 2 sounds
Repeating RS Media-- Has 4 bottons, 3 makes sound clips, and 1 records the order the clips as the are press and plays it back.