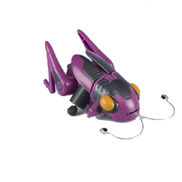 There are several bugbots. 6 so far. They are the first fro the WowWee Fun line.
Each 'bug' will require 2 AAA BATTERIES They will come out Late spring 2008, and each will cost $9.99 apiece.
Visit http://bugbot.info for more reviews and sales on the Wowwee Bugbots.
Ad blocker interference detected!
Wikia is a free-to-use site that makes money from advertising. We have a modified experience for viewers using ad blockers

Wikia is not accessible if you've made further modifications. Remove the custom ad blocker rule(s) and the page will load as expected.